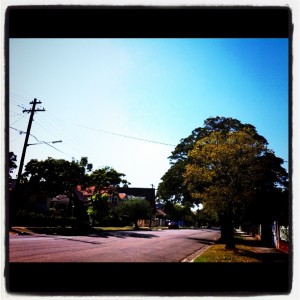 I've only ever known one house, one street, one city and one country as home. My parents purchased our house before I was born and we have lived there ever since. It's a modest one storey three bedroom house with a pool and a small park reserve as our next door neighbour. Moving house always seems like a rite of passage where moving trucks pack up your entire life to start a new one somewhere else.
Now, I'm about to move for the first time. Prior to this, the most amount of moving I've done was moving to the larger bedroom after my brother left home.
I'm not moving a few streets, suburbs, or even a few cities over. I'm moving overseas. Quite a big step for someone who has never moved before, lived by themselves before and has never really cooked for themselves before.
But, it is something I feel must be done as my recent graduate status has left me sitting at home watching TV as I have not come by a 'real' job. Heightened by the media industry downsizing with giants such as Fairfax recently chopping 1900 jobs and News Ltd cutting 400 job and many more to come.
Many people migrate to Australia for a new life as it is the 'land of opportunities'. Not in my case. During the start of my degree,
my lecturers even told us that jobs were scarce and that the media industry was heading into a new, thinner direction. Despite this, I decided to see through my journalism degree and when three years went by in a blink of an eye I found myself with the job hunting conundrum all too fast. Having a degree nowadays seems almost useless.
December 2011 saw me adventure to Indonesia under the ACICIS (Australian Consortium for 'In-Country' Indonesian Studies) 6 week Journalism Practicum Program.
After interning for four weeks at the Globe under three different publications, the daily newspaper the Jakarta Globe, business magazine Globe Asia and magazine the Peak, it was clear that the media industry in Indonesia was on a completely different scale than the Australian one. Newspapers were booming in conjunction with the growing middle class and increased education.
So in desperate need of more experience with a monetary incentive, I have decided to temporarily move to Jakarta, Indonesia to hopefully kick-start my career.
I am going to miss my family, friends, workmates and probably most of all, footpaths.
Join me in following my crazy and hopefully productive adventure!